Celebrating Staff Excellence
The Division of Student Affairs appreciates and acknowledges the dedication, hard work, and talent of our staff. Participate in the recognition process by nominating a colleague for the McGinty Star Awards.
McGinty Star Awards
Named in 2018 to honor Dr. Felicia McGinty, former Vice Chancellor for Student Affairs at Rutgers University–New Brunswick. Each year, we choose Student Affairs professionals who exemplify the following hallmarks of Dr. McGinty's leadership:
Leads with the heart
Is inclusive
Is student-focused
Is solution-oriented
2020-2021 Award Recipients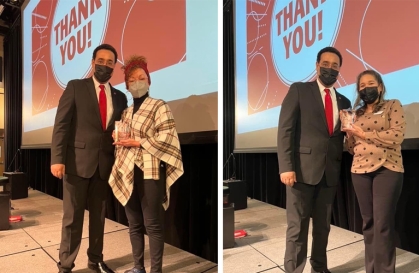 Carey Loch, Student Centers and Activities
Julissa Perez, Student Health-CAPS
Rebecca Vazquez, Office for Violence Prevention and Victim Assistance
2019-2020 Award Recipients
Kevin Pitt, Maddy Zijdel, Kerri Willson, Jon Bouchard

Kevin Pitt, Office of Student Conduct
Maddy Zijdel, Office for Violence Prevention and Victim Assistance
Kerri Willson, Off-Campus Living and Community Partnerships
Jon Bouchard, Residence Life
Staff Service Awards: 2020-2021 Award Recipients
Every year, we recognize Student Affairs employees who have worked for ten, twenty, thirty, and even forty years at Rutgers. We thank you for your dedicated service to our division and the university!
Nasrin Akter
Czeslaw Antonik
Krystyna Antonik
Gyhan Assaad
Pinar Bektas
Halil Bektas
Cathy Bennett
Razia Bhuiyan
Mykhaylo Bobko
Marie Boccio
Randa Botros
Cynthia Bruns
Bryan Cardinale
Yuet Chan
Shu Chen
Kit Cheung
Vinh Co
Oksana Didura
Ewa Dudziak
Emilomon Ehimen
Bonnie Eisenberg
Memi Eng
Rokeshia Faniel
Magda Fawzy
Felisha Felton
Tianxue Feng
Bradley Ferrara
Marlyn Fonseca
Orlan Garcia
Lisa Georgas
Gerges Ghattas
Gihan Girges
Anna Gonsalves
Regina Henderson
Sandra Hidalgo
Cheryl Holder
Heather Hommel
Agata Horn
Wanyue Huang
Qiu Hung
Ka Hung
Li Xin Huo
Jason Isler
Humaira Khan
Renata Kochan
Thomas Kozak
Cecelia Lee
Ariel Leget
Dong Lu
Martina Markovic
Erika Marthy
Malgorzata Matusewicz
Rhonda McCargo
Julia Medina
Abdullah Memis
Manal Meseha
Abdellatif Mestari
Susan Mihalenko
Kimberly Murray
Donna Nemes
Joweng Ng
Laura Noguera Alquijay
Randy Pavlik
Gordana Perez
Julissa Perez
Magdalena Piszczek
Carlton Plummer
Maria Reis
Ismael Reyes
Gerard Roan
Janette Said
Magda Samuel
Daad Sarkis
Mark Simpson
Youmna Sleiman
Luz Solano
Mohamed Soliman
Ephraim Strickland
Kalman Szathmary
Krystyna Szczurko
Margarita Taveras
Tashaun Thomas
Wai Toy
Vanessa Wallace
Ganesh Waran
Crystal Williams
John Young

Michael Autrey
Claire Bien
Mary Davis
Mariya Khorosh
Thomas Lott
Francesca Maresca
Chadia Nammour
Lynn Smith
Kirk Solano
Kenneth Young

Princess Bartley
David Cocuzza
Maria Cutinello
Fayette James
Elizabeth O'Connell-Ganges
Teresa Rivera
Lois Teague
George Robinson - 40 years