Engagement Hub Connects Students to Opportunities Across Rutgers University—New Brunswick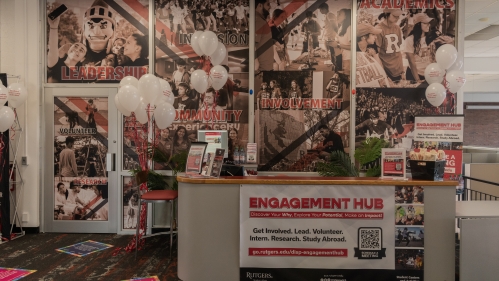 At Rutgers University—New Brunswick, students have plenty of chances to get involved in intramural sports teams, student organizations, or employment opportunities in departments like Recreation and Dining, among many others.
As of spring 2023, they have one more resource in Student Centers and Activities (a unit in the Division of Student Affairs) to connect them with these involvement opportunities: the Engagement Hub in the Student Activities Center (SAC).
"The Engagement Hub is a peer-to-peer program for students who want to get more involved and engaged at Rutgers," said Karima Woodyard, the director of Student Involvement and Leadership and the founder of the Engagement Hub.
"Our students have a script, but they speak from the heart and from their own experiences when connecting their peers to student organizations, sports clubs, or even leadership employment opportunities at places like our Student Centers."
The Engagement Hub, inspired by similar programs at places like Penn State University, features engagement ambassadors who have one-on-one conversations with Scarlet Knights to help them find their niche and make an impact on campus.
"I've been at Rutgers for about ten years," said Woodyard. "We have a ton of experiences, opportunities, and engagement platforms here for students, but it can sometimes be hard for students—whether they're transfer, first-years, or seniors—to find those opportunities. The Engagement Hub helps connect them."
Two students who worked with Woodyard in the fall—Brianna Medeiros and Greeva Patel—played big roles in envisioning and setting up the Engagement Hub, from its name to its process and learning goals.
"When we started, it was just me and Greeva working with Karima," said Brianna Medeiros, a third-year student majoring in communications. "Karima had the vision, but we helped with the slogan, merchandise, welcome desk, and even the official email account."
Patel, a sophomore majoring in supply chain management, said that the experience of setting up the Engagement Hub had a big impact on her own Rutgers experience.
"I have made meaningful connections and friendships, honed my networking and communication skills, and been getting more involved around campus," said Patel. "I also learned a lot more about Rutgers while researching, which has helped reevaluate what I want from my Rutgers experience."
Taken as a whole, the Engagement Hub not only provides a new peer-to-peer service for students to learn about involvement opportunities at Rutgers, but also supports the Rutgers-New Brunswick Academic Master Plan student success goals, as well as Student Affairs' strategic focus on campus engagement and belonging.
"Cultivating student leaders is one of the most important things that we can do in Student Affairs," said Dr. Salvador Mena, Vice-Chancellor of Student Affairs. "We want Rutgers graduates to be able to go out into society and make an impact for the common good. Programs like the Engagement Hub are one way to help get students onto that leadership journey by helping them engage with others and feel a sense of belonging at Rutgers."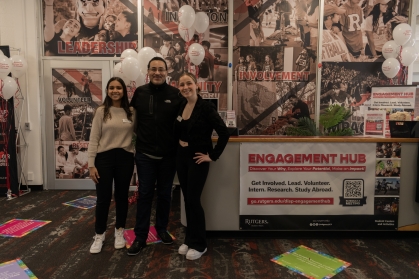 And, while working at the Engagement Hub has given Patel and Medeiros the opportunity to gain plenty of experience, they have also seen the direct impact of their work.
"A lot of students remind me of myself and just don't know where to start at Rutgers," said Medeiros. "It's rewarding to help spark their interest in getting involved with different organizations on campus."
Patel agreed. "Students who visit the Engagement Hub have found a lot more opportunities and been seen getting involved," she said. 
"For example, I met a student and suggested clubs and organizations, but she expressed concern about overcommitting to extracurriculars. Still, my supervisor saw her at the RUSA meeting that same night."
Woodyard plans to keep developing the Engagement Hub in the future, hiring more engagement ambassadors, a full-time engagement assistant, and expanding to locations outside of the SAC.
"I also want to be able to collaborate with various entities in Student Affairs and with our campus partners to ensure broad representation of involvement opportunities across Rutgers," Woodyard said. "It would be great to work with faculty and staff to help this program grow and continue to connect students to engagement opportunities."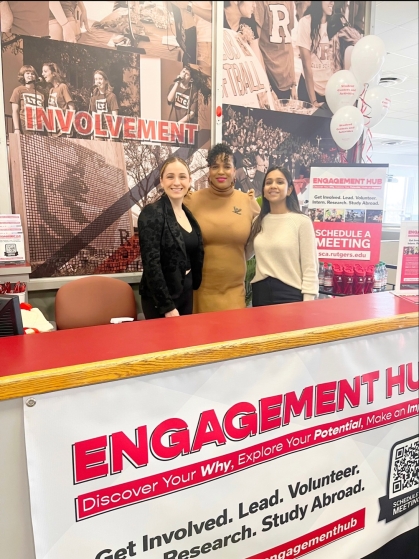 Ultimately, the Engagement Hub—and programs like it—reaffirm the importance of connecting students to opportunities and helping them develop into leaders.
"I'm always thinking, 'What's the value added to a Rutgers degree and education as opposed to a degree from another school?'" said Dr. Mena. "The Engagement Hub can help connect students to our community, which will give them the perspective, the insight, and the learning opportunities that can help them figure out who and how they want to be in this world of ours."
The Engagement Hub is located in the Student Activities Center. Make an appointment by emailing engagement.ambassador@gmail.com.