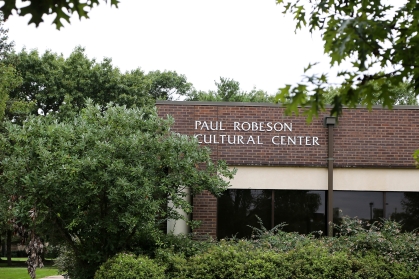 When Bryan Matthew arrived at Rutgers University–New Brunswick four years ago, he felt more disappointment than excitement about life on campus, when he didn't see many people who looked like him.
He was frustrated that students in his classes couldn't relate to his experiences and he felt a need to find a community. But it was not until his sophomore year, with a chance opportunity to fill a work-study position at the Paul Robeson Cultural Center (PRCC) that Matthew found a space that matched what he expected from Rutgers, a larger and more racially diverse institution.
"Black students represent roughly about 7 percent of the undergraduate student population," says David Jones, director of the PRCC. "So many of our students are the only ones in their classes. Having [the PRCC] provides that home away from home for them in a lot of meaningful ways."
Located on Busch campus, the center has played a vital role in the Rutgers community by offering a variety of programs, initiatives, and services that reflect the robust history, heritage, and diversity of the black diaspora.
Established in 1969 as a space for black students to congregate at Rutgers, its opening served as a direct response to activism led by black students. These students organized a campaign calling for a supportive atmosphere for the increasing number of African-American students at the institution while also calling for a greater representation of black faculty, students, and staff members at the university.
While originally known as the Black House, the center changed its name in 1972 to honor the legacy of alumnus, Paul Robeson, who actively fought for the equality of black students at Rutgers during his time. The name change served as an opportunity for the PRCC to elevate its mission.
For students like Matthew, being in predominately white spaces fueled his need to find a community of people who lived similar experiences.
Matthew participated in Rutgers Future Scholars and the Educational Opportunity Fund (EOF) before his first year in college. Both programs cater to a diverse group of first-generation, low-income, academically promising students. In transitioning over to undergraduate life, Matthew no longer had the same tight-knit community that these two programs offered him. It was a jarring difference until he became involved with the center.
"The PRCC has played a huge role in my life," says Matthew. "I learned more about myself from the center than from the classroom."
PRCC has been catering to generations of black students at Rutgers since it opened, shaping the lives of thousands of current students and alumni.
Isaiah McNeil, a 2018 Rutgers graduate, was introduced to the PRCC through his fraternity, Alpha Phi Alpha, which collaborates with the center on events. It was an experience that changed the course of his time at Rutgers.
The dozens of programs offered each year offered through the PRCC include Homecoming BLACKout Weekend, the Rites of Passage Graduation Ceremony, and the B.L.A.C.K. Brothers' & Sisters' Mentoring Circle. They aim to provide a space where students participate in guided educational discourse, leadership development, and out of the classroom engagement.
"Through the PRCC, I was able to surround myself with people that were more relatable in terms of being people of color and also like-minded men," McNeil said. "I was able to create relationships with men of color who eventually helped me get into graduate school."
For Matthew, his decision to enter the B.L.A.C.K. Brothers' Mentoring Circle helped him gain leadership and internship experience.
"The B.L.A.C.K Brothers' Mentoring Circle allowed me to be around black staff and students who look like me, something I do not often have the opportunity to see in my classes," says Matthew. "I have found mentors in people like Jones, who I can reach out to whenever I need help or guidance."
McNeil also found a strong support group from Jones and Moore, who both helped in his transition to graduate school.
"There are campus wide resources available right here at the PRCC that students can take advantage of," says Jones. "They can show up and be who they are, whether through walking in their own truth or being comfortable in their own skin."
This year, the Paul Robeson Cultural Center is celebrating its 50th Anniversary. For more information regarding the PRCC 50th Anniversary, please visit prcc.rutgers.edu/community/50th-anniversary-celebration or follow them on Facebook @PRCCRutgers to receive PRCC updates and to find events on campus hosted by the PRCC.
Financial support from alumni, parents, and friends helps us create the innovative learning opportunities that challenge students to be their best at Rutgers and beyond.
About the Division of Student Affairs at Rutgers–New Brunswick
The Division of Student Affairs is committed to facilitating interactions that promote students' success and their personal and professional development. Learn more about our mission.