Rutgers' Asian American Cultural Center Honors APIDA Heritage Month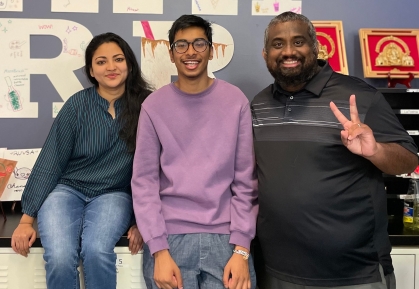 This April, Rutgers' Asian American Cultural Center (AACC) is celebrating Asian Pacific Islander Desi American (APIDA) Heritage Month by highlighting the diversity and achievements of the university's APIDA community.
Programming for the month-long celebration includes cultural events from APIDA student organizations, an APIDA Art Show, and culminates with the APIDA Graduation and Leadership Awards on May 4 to recognize the accomplishments of individual student leaders, organizations, and graduates of the APIDA community. 
"For us, APIDA Heritage Month is about amplifying Rutgers Asian voices and making sure to highlight identities, histories, struggles, and achievements so people are learning and celebrating at the same time," said Naima Chowdhury, the assistant director of the AACC. "It's about creating an awareness of APIDA cultures and histories, as well as helping our community feel a sense of belonging at this predominantly white institution."
Additionally, APIDA Heritage Month represents an opportunity for the AACC to highlight the necessity for social justice work to combat anti-Asian violence and sentiment.
"Our community has been under attack," said Jacob Chacko, director of the AACC. "We're seeing an increase in violence and hate crimes aimed toward the Asian American community, and we are seeing an impact on our students."
With that in mind, Chacko said, the AACC is hosting two processing spaces in collaboration with Student Health Counseling Services and the Asian Student Council, as well as two workshops on race, oppression, and gender-based violence in collaboration with the Office for Violence Prevention and Victim Assistance.
The processing spaces struck Om Patil, a senior intern at the AACC, as especially important resources for students during APIDA Heritage Month.
"We're grateful to have such a great space where the community can engage in dialogue and process current events surrounding the rise of anti-Asian violence and sentiments," Patil said. "No matter what your background or identity, we want to make sure that there's a place for you to be respected as you process what's going on in the world today."
Looking forward, the AACC hopes to host an APIDA Graduation Ceremony as soon as 2023. The event would honor Asian American students – who make up more than 25 percent of the Rutgers student population – and recognize their accomplishments.
 "We hope to create a ceremony where students will feel important, appreciated, and will know that they are heard on this campus," Chowdhury said.
Financial support from alumni, parents, and friends helps us create the innovative learning opportunities that challenge students to be their best at Rutgers and beyond.
About the Division of Student Affairs at Rutgers–New Brunswick
The Division of Student Affairs is committed to facilitating interactions that promote students' success and their personal and professional development. Learn more about our mission.