To say the Rutgers Cantonese Club (RCC) grew despite the pandemic would be an understatement. More accurately, it thrived.
Even as the Spring 2022 semester ended, RCC seemed virtually unafflicted by the usual end-of-semester haze. Their turnout was strong, and their events were frequent. Their final event of the spring semester, Game Night, gathered a sizeable crowd of around 80 students. Every attendee was engaged and smiling, and the only thing that lifted their collective spirits any higher was a surprise delivery of mochi donuts.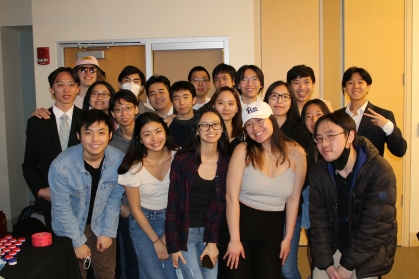 Yet while RCC's mission and integrity have been consistent, it wasn't always a busy and bustling organization. Established by a small group of students in 2006, RCC was founded as a place in which Cantonese students could gather, relate to each other, and share common interests. Many Asian organizations at Rutgers have more than 100 members in their general bodies, but RCC, at the time, was the "new kid on the block." In its first year on campus, it consisted of just 40 members.
The president of RCC for the 2021-2022 school year, Sabrina Lew, reflected on the club's major growth. "We've more than doubled in size since then—with nearly 100 members coming to our meetings—despite the challenges of sustaining it in a virtual setting due to COVID." 
Beyond their impressive increase in membership, the club has strengthened its presence among other student organizations. Teamwork and tight bonds are undoubtedly the key to their success.
During the pandemic, when Lew became president, RCC held biweekly meetings where, in addition to their regular agenda, they included consistent bonding activities. One such activity divided members into small breakout rooms of two or three people, thereby allowing a space in which fellow club members could transform into close friends.
Tactics like this worked. "Eventually, through our Discord chat, many members were gathering between meetings and playing League of Legends or having virtual movie nights," said Lew. These online hangouts further strengthened club bonds.
The close-knit environment they created in an online setting helped the club prevail when things returned to normal. Events such as Game Night, Craft Night, and a Chinese New Year's party all saw high turnouts and familiar faces.
"Our emphasis on being a family is why the people that come out to our events come out repeatedly. They come because they love RCC," remarked current secretary Michelle Liang.
Derek Liang, one of the two current social chairs, echoed the idea that they were able to use the pandemic to their advantage. "It allowed us to really springboard ourselves when we came back because more people were willing to come out, and our events kept them coming."
Once back on campus, RCC made a big splash by participating in and attending other Asian organizations' events in addition to hosting many of their own. Ariana Kha, the current social chair, described how they made consistent efforts to become well known in the community.
"A big way we kept RCC going was increasing engagement with other Asian organizations, like our sister organizations—the Chinese Student Organization, Taiwanese American Student Association, and Vietnamese Student Association," Kha said. "We also send our board members to their large events such as China Nite and Miss VSA."
The RCC also strengthened their connections within the community by hosting joint events like a cookie decorating contest and a language teaching night with other Asian student associations. Through these efforts, RCC has become a notable and recognizable organization among the larger Asian student community, which, in turn, has helped to create a further sense of unity for these students.
"It's like our own little town. Everyone knows each other by name, and it's the biggest support system I've ever had. It's become a lot more unified in recent years and I know pretty much everyone there has my back," Lew said. "For me, it's truly a safe space, somewhere to lean back on and be unapologetically myself, and I don't know if I would have found it without RCC."
Others have similar stories. For Kelly Chung, the current graphics chair, RCC has had a major impact on her undergraduate life. "Even though COVID happened, and half of my freshmen year and all of my sophomore year was online, RCC has been the constant through it all."
It's no surprise that "family" is at the core of RCC's mission statement. The tight bonds created with these members are sure to last a lifetime. As Sabrina Lew's presidency and time at Rutgers is near its end, she's taken time to reflect on her experience leading RCC.
"Not to be cheesy, but I would not be who I am today without it."
You can keep up with RCC and find more info about meetings and events on their Instagram @rutgersrcc.
Financial support from alumni, parents, and friends helps us create the innovative learning opportunities that challenge students to be their best at Rutgers and beyond.
About the Division of Student Affairs at Rutgers–New Brunswick
The Division of Student Affairs is committed to facilitating interactions that promote students' success and their personal and professional development. Learn more about our mission.