Rutgers Ultimate's 50th Anniversary Game Marks a Milestone for the Sport at Rutgers University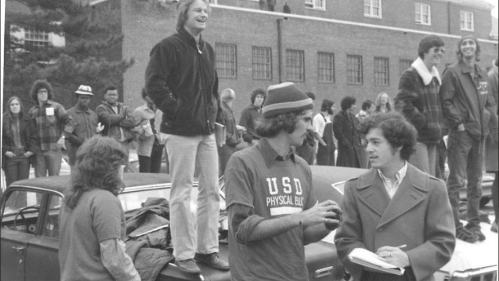 On Sunday, November 6th, generations of Rutgers Ultimate alumni returned to play in the annual alumni-student game—and to celebrate the 50th anniversary of the team's first game. 
As usual, the alumni won. For many, though, the game itself was less important than what it represented. 
"Seeing everyone at the 50th anniversary game made me realize that people were way more invested in Rutgers—and Rutgers Ultimate—than I had imagined," said Alec Bakholdin, treasurer of Rutgers Machine, the men's team, which operates as a club sport within Rutgers Recreation and the Division of Student Affairs. "It was amazing to see," he continued, noting that many alumni had come from distant states like Arizona or North Carolina.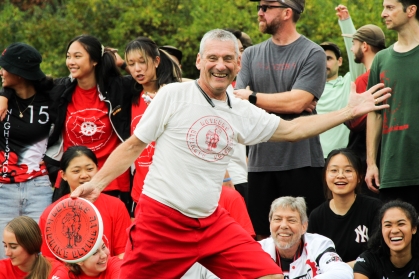 The event also marked the official launch of the 1972 Ultimate Alumni Club, a nonprofit organization that helped coordinate the 50th anniversary game and will provide financial support to the Rutgers Ultimate teams.  
"With this nonprofit, we want to ensure that they can go to the most competitive tournaments, to issue scholarships, and to create other layers of community outreach so that both the men's and women's teams and programs can maintain this very high level of competition," said Geoffrey Irving, a 2011 Rutgers Ultimate alum who heads the organization. 
"It was powerful to see players from the 1970s through the 2020s on the same field, playing the same sport that we all love," Irving continued. "I hope that our support can help the teams prosper over the next fifteen years." 
Today, two main club sports teams play Ultimate Frisbee at Rutgers: Machine, which includes male-identified players, and Nightshade, which includes female-identified and non-binary players, and which began in the fall 1990 semester. Both teams have regular practices, play against other teams, and travel to tournaments in New Jersey and the greater United States.
Though the pandemic has presented key challenges for both Machine and Nightshade, both aim to continue creating community and playing Ultimate Frisbee into the future. 
"Nightshade is one of the most welcoming groups of people that I've ever met," said Eveline Shiao, a co-captain of Nightshade. "We're very tight-knit, and I think that the new members on our team see the effort that the older students put in and want to find their own second family within Nightshade." 
"Although we are losing a decent number of seniors this year, and we have no junior class as the result of the COVID shutdowns, there's still a very good base of young players that will continue our culture and system, as well as a great coaching staff," said Chris Iglesias, a second-year player on Machine. "We're only going up from here." 
It has taken a long time for the sport to get to this point, though—both at Rutgers and outside of it. 
Rutgers Ultimate played the first intercollegiate game of Ultimate Frisbee against Princeton on November 6th, 1972—103 years to the day after Rutgers defeated Princeton in the first-ever collegiate football game. To help publicize their game, Geoff West and Irv Kalb, the founders of the club sport at Rutgers (and graduates of Columbia High School in Maplewood, where the sport had been invented), held the game on the exact same ground that the first football team had—which had since been turned into a commuter parking lot that the pair cordoned off with white tape. 
"We had a very small crowd at the beginning, but when people saw the news vans driving up, it got bigger and bigger," said Kalb. "The team was very excited, and we ended up beating Princeton by the same margin that we had beat them in the first football game: two points." 
Overall, the game drew about 1100 spectators and was covered by both by local news outlets like The Daily Targum and larger-scale magazines and newspapers like the Newark Star-Ledger, Sports Illustrated, and the New York Times. 
Though the crowds became considerably smaller after their initial win—only ten people showed up to watch their second game—the team was an instant success, notching twenty-nine wins and one loss in its first thirty games. 
Over the next following years, the Rutgers Ultimate team continued to grow at Rutgers and to spread the game in and beyond New Jersey, traveling to local and distant games, connecting with other teams around the country, and—in one case—bringing the game of Ultimate to a "Guts" tournament in Minnesota, which was and remains an alternative game played with a Frisbee. 
All of these experiences connected team members, and the club built a friendly, open culture. 
"It seemed like we drew people from all parts of Rutgers," said Jeff Trafecante, an early member of the team. "Everyone was welcome, whether you were a freshman or a grad student, a man or a woman. We were just kids having fun." 
And, as the Rutgers Ultimate team grew at Rutgers, winning four national championships, the sport also found footing outside of the school. In 1975, the first National Collegiate Championship (later renamed the National Ultimate Frisbee Tournament) was held at Yale, and the first World Ultimate Championship was held in 1983 in Sweden. Ultimate continued to grow over the coming years, and today is played by over 100,000 people in 30+ countries.
And, soon, Rutgers Shakti (which later was renamed Nightshade) was formed in Fall 1990 by three female players on the Rutgers Ultimate team who wanted to participate on a more level playing field.  
"In that first year, with the men's team support, we put up flyers around school and recruited about 16 women," said Barbara Porter, who was co-captain for the team's first two years. "It was a slow start to teach so many new players, and we did not win many games, but we worked hard to maintain a supportive and encouraging atmosphere."  
That work soon paid off in the competitive arena. Rutgers Shakti made nationals in 1997, 1998, and 2004, and remains a competitive team today. For players like Porter, though, winning was secondary to the community that players created through Shakti. 
"The group was a safe space where we could be goofy, fun, athletic, healthy, and empowered," she said. "It's difficult to put its importance into words." 
By the time that Geoff Irving joined the men's team, Ultimate had been around for almost forty years at Rutgers, boasting a strong culture and tradition in both of its teams. Among other things, Irving credited the club sport setup to Ultimate's success at Rutgers. 
"The fact that it's a club sport, not a varsity sport, means that student members need to run the club and keep it alive," Irving said. "Each subsequent class needs to carry on the tradition and, in doing so, make the tradition theirs." 
More than ten years later, Machine boasts over eighty active players, and Nightshade has between fifty and sixty. Still, they face structural issues similar to many other club sports at Rutgers. 
"The challenge that's going to face all of our club teams is funding," said Adam Shanley, the coordinator of club sports for Rutgers Recreation. "Because of the rising costs associated with almost everything in the world, especially transportation, they're going to have to be more self-sustaining and rely more on alumni support as they travel to tournaments or games." 
Overall, though, the future is bright for Ultimate at Rutgers. 
"Meeting some of the founding members of Nightshade at the alumni game was really inspiring," said Victoria Ng, a member of Nightshade who has previously served as treasurer. "They were able to pull away from being on a men's team and do their own thing, and I think that even they're surprised that we have come this far and lasted this long. 
"Everyone's fear for the next year is that we're not going to have enough numbers," Ng added. "It's not about numbers. It's about fostering this love of a sport in so many people, and we've had so many players come out of this program and spread that love and knowledge around the world. That's what I'm most proud of, and that's what I'm looking forward to continuing to do with Nightshade." 
Christopher McLaughlin, vice-president of Rutgers Machine, echoed Ng. "I think that we're on a good path right now," he said.  
"At the core of Rutgers Ultimate, we're just a group of friends who form a community and family, and, ultimately, we just want to keep bringing in more people and showing them how fun and awesome it is." 
To learn more about Rutgers Machine or Nightshade, you can follow them on Instagram at @ru_nightshade and @rutgers_machine or email them at rutgers.ultimate@gmail.com and rutgersnightshade@gmail.com.