In Fall 2016, the Office of Off-Campus Living and Community Partnerships (OCLCP) opened the Rutgers Student Food Pantry at 39 Union Street. For the next few years, it operated through a client-choice model from Monday to Friday: students could come in, shop, and take what they needed for the week.
"As a society, we tell folks that the route out of poverty is education," said Kerri Willson, who serves as the director of OCLCP and as an associate dean of students. 
"But food-insecure students who got free and reduced lunch in their K-12 education still struggle with food insecurity when they come to college," Willson continued.
"If we don't have the support in place and a student isn't able to thrive because they are food insecure, they might fail a class that will put them back a semester or even drop out." 
As the food pantry grew, its staff built a comforting atmosphere at 39 Union Street.  
"We set up our house to be very homey, warm, and welcoming," Willson said. "I always said to people, 'If you can help me get students through the front door, I promise you we've got them after that, because we'll take care of them.'" 
Melissa Madrid, a student employee, agreed with Willson's emphasis on the food pantry's atmosphere. "We always want to make sure that students feel welcomed," she said. "We're here to help." 
Like many other institutions at Rutgers, however, the food pantry was forced to adapt to the challenges posed by the COVID-19 pandemic in March 2020. 
In the first few days following the University closure, the pantry tried to maintain its client-choice model, but when over 200 students visited in the span of a few days, it began distributing pre-packaged goods from the porch of 39 Union Street. This, in turn, led to long lines of students stretching out into the street. 
"We were completely overwhelmed," said Willson. "On top of the students, we were receiving perishables from University Dining and a tremendous number of donations from individual people, and it was all too much to manage." 
The food pantry soon relocated to the Graduate Student Lounge on College Avenue, where student employees distributed food in an efficient, socially distanced manner. 
"We would package bags of vegetarian and non-vegetarian food, then give them out to students who came up to the door," said Madrid. "And, of course, if they needed something extra, we were always willing to give it to them."
Then, in April 2020, the student food pantry introduced the mobile food pantry, which distributed food to students on the Livingston, Cook-Douglass, and Busch campuses on Thursdays. 
"Students didn't want to get on the buses to travel to College Avenue and often didn't have a way to get to the grocery store, so we set up locations on all of the campuses," said Willson.  
"It's fun work," said Ross Perez, a student employee who took over the distribution of food from the mobile food pantry from Willson. "We sign people up, get out of the van, and give them a vegetarian or a non-vegetarian bag of food. Sometimes we even have fresh produce or bread that we can hand out as well." 
"The mobile food pantry gives people who live on Busch, Livingston, and Cook-Douglass the chance to receive help from the food pantry," said Nick Lluen, a student employee who works on the mobile food pantry with Perez. "It's a great way to reach people, because not everyone can make it to the College Avenue campus for an appointment."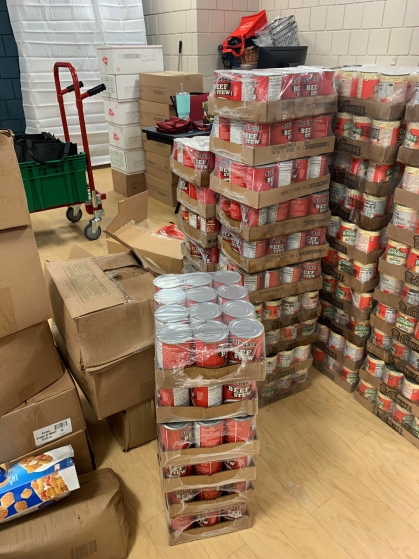 On September 1, 2021, as Rutgers was transitioning back into in-person learning, the student food pantry moved into Room 115 of the College Avenue Student Center, where they added a refrigerator, freezer, and returned to a client-choice model. 
The pantry's difficulties were not over, however. Later that day, Hurricane Ida hit New Jersey. The lower level of the College Avenue Student Center flooded, and the food pantry lost $3,000 worth of food.
"Thankfully, the shelves have to be a certain number of inches off the ground, so it didn't ruin everything, but we were out of that space until mid-October," Willson said.
In the interim, the food pantry operated out of the mobile food pantry before returning to the College Avenue Student Center. 
Despite these difficulties, the food pantry served more students than ever before in fall 2021, receiving 1359 visits, a 93.5% increase over the 702 visits made in fall 2018. 
"A good portion of these students support families as well," said Willson. "With that in mind, the actual number of users of the food pantry are significantly higher than our data right now."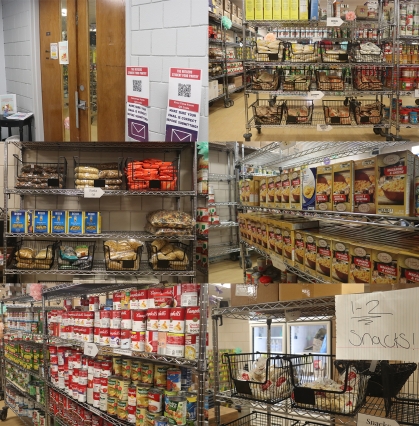 Still, the available data reinforces the idea of the food pantry as necessary to the Rutgers student population, a sentiment shared by its employees and student workers.
"The food pantry is extremely important," said Lluen. "College is difficult enough on its own, and the food pantry provides a basic necessity that all humans need and deserve." 
The student food pantry is currently located in room 115 of the College Avenue Student Center, where students can pick out non-perishables, produce, and meat. The pantry is open for appointments on Tuesday, Wednesday, and Friday, and the mobile food pantry continues to visit the Busch, Livingston, and Cook-Douglass Campuses each Thursday.
Financial support from alumni, parents, and friends helps us create the innovative learning opportunities that challenge students to be their best at Rutgers and beyond.
About the Division of Student Affairs at Rutgers–New Brunswick
The Division of Student Affairs is committed to facilitating interactions that promote students' success and their personal and professional development. Learn more about our mission.