Diverse Learning Environments (DLE) Survey
The DLE is a national survey designed to capture student perceptions of institutional climate, learning outcomes, and campus practices as experienced with faculty, staff, and peers.
In 2017, over 4,000 Rutgers University–New Brunswick undergraduate students completed the DLE survey. Rutgers–New Brunswick is a diverse environment where students are encouraged to expand their viewpoints through intercultural understanding and engagement. An inclusive community ensures all students are able to grow and learn successfully.
Survey Highlights
College is a time for students to reflect on who they are...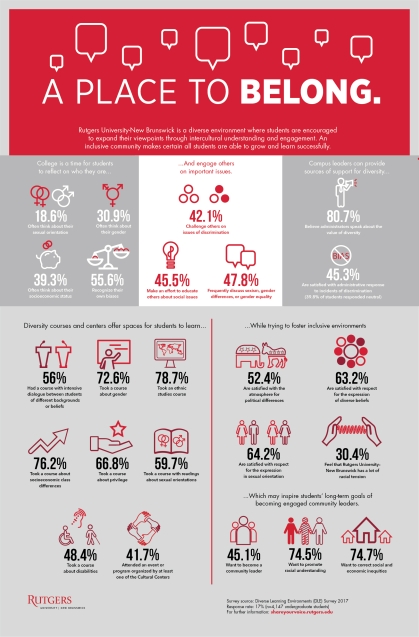 18.6% often think about their sexual orientation
30.9% often think about their gender
39.3% often think about their economic status
55.6% recognize their own biases
... and engage others on important issues
42.1% challenge others on issues of discrimination
45.5% make an effort to educate others about social issues
47.8% frequently discuss sexism, gender differences, or gender equality
Campus leaders can provide sources of support for diversity
80.7% believe administrators speak about the value of diversity
45.3% are satisfied with the administrative response to incidents of discrimination (39.8% responded neutral)
Diversity courses and centers offer spaces for students to learn...
56% had a course with intensive dialogue between students of different backgrounds or beliefs
72.6% took a course about gender
78.7% took an ethnic studies course
76.2% took a course about socioeconomic class differences
66.8% took a course about privilege
59.7% took a course with readings about sexual orientations
48.4% took a course about disabilities
41.7% attended an event or program organized by at least one of the Cultural Centers
...While trying to foster inclusive environments
52.4% are satisfied with the atmosphere for political differences
63.2% are satisfied with respect for the expression of diverse beliefs
64.2% are satisfied with respect for the expression of sexual orientation
30.4% feel that Rutgers–New Brunswick has a lot of racial tension
...Which may inspire students' long-term goals of becoming engaged community leaders
45.1% want to become a community leader
74.5% want to promote racial understanding
74.7% want to correct social and economic inequities